First Gourmet Academy and ZIP Travel Philippines, an agency that assists students and graduates to find training and employment in the US and other countries, organized another hiring event in Quezon City last August 19, 2014.
First Gourmet Academy was visited by Chef Armando Monterroso, executive chef from one of the biggest hotels in the world. He was in the Philippines to employ around 50-60 students and graduates for the hotel and convention center Gaylord Opryland in Nashville, Tennessee.
Not only students from First Gourmet Academy attended this hiring event but also students from other schools like ISCAHM, St. Benilde and Northpoint Academy from Pampanga. Those at First Gourmet Academy got a chance to talk to the foreign chefs; it was discovered that Chef Monterroso and the Director of First Gourmet Academy, Swedish National Mats Loo, have mutual friends since Armando started his career 15 years ago by working under the Swedish celebrity chef Marcus Samuelsson at Restaurant Aquavit in New York City. The culinary family is a small family indeed.
All students that participated in this event cooked one dish of their choice and served it to Chef Armando and our own instructors, Mats Loo and Thomas Paul. While tasting the food, the American chef also interviewed the applicants to get to know them a little bit better.
This was the first time that Chef Armando visited the Philippines and he was impressed by the facilities of First Gourmet Academy saying that the kitchen of the school was at par with the most exclusive culinary schools in the US. He was also very happy with the event as a whole.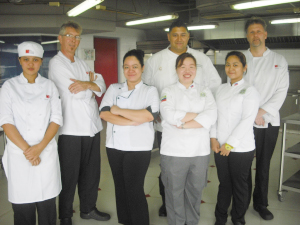 "In America, I have problems finding good cooks and chefs. This is the reason why I am here today. I need to have quite a large number of fresh graduates for the very big operation that I am in charge of in Nashville," Chef Armando explains. "What I have seen so far today is that the students participating in this event are showing the correct passion for work, food and professionalism. This is exactly what I am looking for. I also hope that I will be back at First Gourmet Academy annually to find students willing to work with me in the US."
Hiring events regularly take place at First Gourmet Academy. Already this coming September, six chefs from Lake Tahoe Resort in California will be visiting us to hire more of our students. Please contact us for more information regarding this coming event and our upcoming Diploma classes that will prepare you for a professional career in the Philippines as well as around the world.