Our Faculty
Mats Loo
Having begun his career at the tender age of 14 in his native Sweden, Mats entered another stage in his life when he founded First Gourmet Academy with his partners. As an instructor, he is recognized for his strong grasp of culinary fundamentals and global standards, a result of honing his skills in several Michelin star restaurants around the world such as the Villa Källhagen in Stockholm, Westra Piren in Gothenburg, Sweden and Le Meridien in Piccadilly, London. At the Restaurant Akademin in Sweden, he worked with the academic head to offer further educational courses for restaurant professionals. He then mastered the nuances of mass production, purchasing, food chemistry and international flavors working as an Executive Chef in several cruise ships for 10 years, including the MS Endeavour and MS Polaris. He shares his knowledge and passion with future culinary artists through his First Gourmet Academy classes.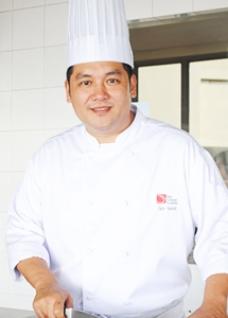 Ziggy Segunial
Asian cuisines as well as healthy food and nutrition are something that Ziggy knows a lot about.
Ziggy has been in the culinary profession for almost 20 years. His previous work at Philippine Airlines Inflight Catering developed his skills in preparing special food (based on different diets), wellness and balanced meals, as well as individual preferences. He has also done a lot of consulting jobs for Asia Pacific and Far East Hotel Consultancy Company. His culinary career also took him to South Korea and Vancouver, Canada to work for a well-known Korean international restaurant chain which specializes on the standards of fast food business and franchising. At the moment, he is handling our Fundamentals of Culinary Arts short course, Asian cuisine courses, and courses focused on healthy food.
Marie Bonus
Marie Bonus has been a baker and an artist by heart since her grade school years. Growing up, she has excelled and pursued her passion for both crafts – first by finishing college with a degree in Fine Arts and later by getting her diploma in Pastry Arts from the Institute of Culinary Education in New York City. Her combined passion for both arts opened a lot of opportunities for her to enhance her expertise at famous restaurants and patisserie shops such as Financier Patisserie, David Burke at Bloomingdales and the world-class restaurant Nobu, all located in the Big Apple.
Jojo Bolivar
Jojo Bolivar, a graduate of BS Hotel and Restaurant Management, decided to pursue his love for the culinary arts and decided that First Gourmet Academy was the right school for him. After graduating, he was able to work immediately as a Cook and Food & Beverage Supervisor in a local hotel. There, he was able to further hone and develop his skills and knowledge in the field especially in food costing and menu development. Afterward, he managed to get an opportunity to work in Saudi Arabia as a Commis Chef was assigned to the hot kitchen and breads which help further expand his knowledge to both areas which lead him to be promoted to the position of Demi Chef de Partie. He spent quite a lot of time working abroad and when he came back, he accepted the offer given to him to share his acquired experiences and knowledge to the aspiring students of First Gourmet Academy.
Thomas Paul
He has been in the field of Culinary Arts for 40 years which makes him probably the most experienced instructor in The Philippines. He started as a Commis de cuisine at Hotel Intercontinental in Frankfurt. After being a cook in The German Army he studied, and became a certified culinary instructor at a young age. He continued with his career, worked and at the same time traveled the world through food. Some of the countries and places he has worked in are Canada, and Afghanistan. He has also worked in The USA for years at for example Treasure Island, Bellagio, The Shore Club, Mandalay Bay and The Mansion MGM Grand.