The US Department of Veterans Affairs (VA) is an organization specially made for the caring of American Veterans involved in the previous World Wars. Aside from the Veterans themselves, Veterans Affairs also involves the families in order to assist them in whatever manner a war has handicapped their way of living. As a whole, the United States has the most inclusive system of assistance for Veterans in the world. The system was an effective solution, which started in 1636, when the Pilgrims of Plymouth Colony were at war with the Pequot Indians. The Pilgrims passed a law that stated that disabled soldiers would be supported by the colony. The law, with good graces, continues up to this time.
Today, by providing accreditation, VA is still running one of the best services for American soldiers with their integrated healthcare system. They now house more than 1,700 hospitals, clinics, community living, domiciliary, and readjustment counselling centers, and other facilities.
We interviewed, Evelyn Reynolds, student at First Gourmet Academy and VA supporter…
Q: Can you tell us about the Veterans Affairs program?
Evelyn: My husband has been active in VA ever since. He was part of the military, so he had this benefit which he can use in college to study and for other things. It's good because it's transferable to his wife and children. It was during this time that I wanted to study at a culinary school, so my husband transferred the benefit to me.
Q: Why did you choose First Gourmet Academy?
Evelyn: They gave us a list of schools accredited by VA and I found out that First Gourmet Academy was on it. At first I looked it up via the internet then I got really interested, so there.
Q: Do you plan to pursue a career on Culinary Arts?
Evelyn: Absolutely! I love to cook, plain and simple. I'm really planning to open a restaurant soon…
Q:  How is your experience in First Gourmet Academy so far?
Evelyn: It's been fun even if it has only been one week; the professors and students are fun and friendly. It's been 19 years since I last studied so it's pretty exciting to be back.
Q: What are your expectations studying at First Gourmet Academy?
Evelyn: Actually, a lot, that's why I chose this school. All the teachers here came from prestigious background so the lectures are very well thought-out and productive.
Q: Any advice for culinary hopefuls?
Evelyn: If you really want to enter a culinary school then you should take up an education in an institution like First Gourmet Academy. The teachers, staff and your fellow students will definitely guide you in reaching your goal. So there… don't stop learning and don't forget to have fun!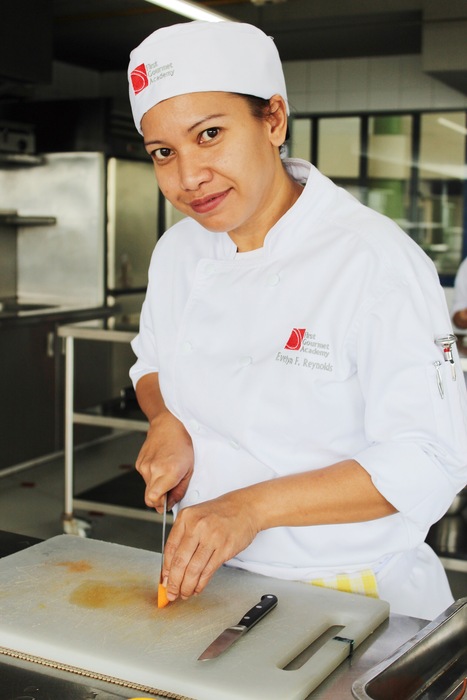 First Gourmet Academy is one of the accredited schools that cater to the benefits of American war veterans. If you want great culinary education, then this is the right school for you. If interested, you can check out the US Department of Veterans Affairs website or reach us via email at info@firstgourmetacademy.com.