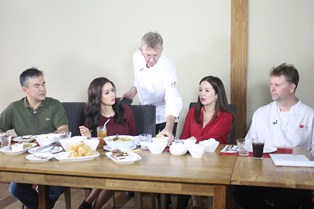 February 20, 2014 For her morning show Kris TV, the host Kris Aquino and her co-host Erich Gonzales came to see First Gourmet Academy. They also visited our Asian-inspired restaurant Fika that is being managed by students of First Gourmet Academy. At the restaurant, Kris and Erich where treated to eight different dishes that we are at the moment offering in Fika. These dishes included Chicken Satay, Beef Rendang, Onion Baijis, and Almond Ice Cream. All of these dishes were very much liked by the ladies and they promised they will return in a week or two for more.
Joining them for lunch were the two owners of First Gourmet Academy, Dennis Nakpil and Mats Loo, who explained the food to the visitors.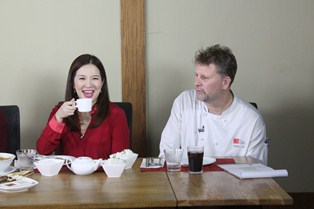 As soon as the food was finished, the TV shooting continued one floor up in the facilities of First Gourmet Academy. Now it was time for Thomas Paul, our experienced instructor, to show Kris and Erich how to prepare Singaporean Laksa and stir-fried Korean spicy squid.
<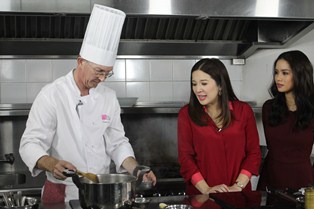 The TV shooting went very well. Both Kris and Erich are very much interested in food as we all know. Their knowledge about food is also great. So it was nice for our students and the rest of the people behind Fika and First Gourmet Academy to hear that they liked the food so much that they will do whatever they can to soon return to Fika. Kris also mentioned, on a couple of occasions, the fantastic location of our restaurant Fika and our culinary school First Gourmet Academy. She also mentioned the friendly atmosphere that we are famous for in our facilities. Thank you for coming Kris and Erich! We all hope to see you soon again!